Best American Poetry 2016 Reading
Thursday, September 22, 2016 at 7:00 pm to 9:00 pm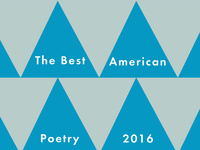 For the fifteenth consecutive year, the New School Writing Program sponsors the launch reading for the latest edition in the celebrated Best American Poetry series.
David Lehman, poetry coordinator for the Creative Writing Program and series editor, will moderate the event. He will be joined by contributors to the anthology as well as Edward Hirsch, guest editor of the 2016 volume. 
With poets Christopher Bakken, Catherine Barnett, Jill Bialosky, Paula Bohince, Michelle Boisseau, Marianne Boruch, Lynn Emanuel, Martín Espada, Charles Fort,  Emily Fragos, Juliana Gray, Linda Gregerson, Mark Halliday, Jeffrey Harrison, Cynthia Hogue, Garrett Hongo, Ruchard Howard, T. R. Hummer, Major Jackson, Lawrence Joseph, Julie Kane. John Koethe, Loretta Klobah, Keetje Kuypers, Deborah Landau, Robin Coste Lewis, Paul Mariani, Debra Marquart, Hai-Dan Phan, Rowan Ricardo Phillips, Stanley Plumly, James Richardson, Patrick Rosal, Anya Silver, Taije Silverman,Tom Sleigh, A. E. Stallings,Susan Stewart, Nomi Stone, Adrienne Su, Lee Upton, Eleanor Wilner, . . .
It will be historic
Sponsored by the Creative Writing Program.